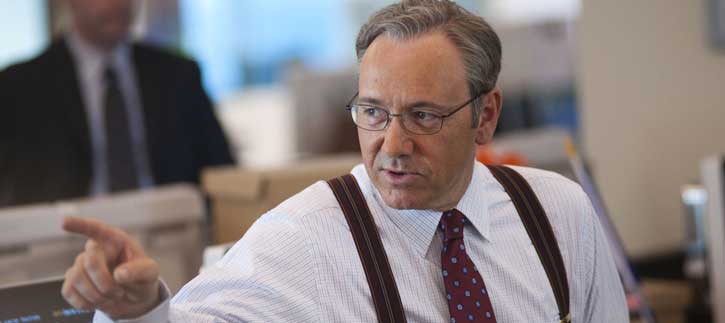 Ja, het zijn gewetenloze klootzakken, de bankiers die de hoofdrol spelen in Margin Call. Voor geld doen ze alles, precies zoals het volk denkt. Maar wie recentelijk de geweldige documentaire The Inside Job zag, over het ontstaan van de kredietcrisis, weet dat de realiteit nog veel erger is.
Margin Call verhult niet dat het geïnspireerd is op de val van Lehman Brothers in september 2008, het begin van de kredietcrisis. Een jonge risico-analist ontdekt dat de portefeuille van de bank veel te kwetsbaar is geworden: bij een klein beetje tegenwind zijn de bezittingen al ontoereikend om de verliezen op te vangen.
Crisisoverleg
Het is het startsein voor een nacht vol crisisoverleg, waarbij uiteindelijk de meedogenloze baas John Tuld (een knipoog naar Lehman Brothers-directeur Richard Fuld) ingeschakeld moet worden. Binnen enkele uren moet hij beslissen welke stappen worden ondernomen tegen het dreigende bankroet.
Jeremy Irons is nietsontziend als de directeur. Het enige menselijke trekje komt van Kevin Spacey, de topman die treurt om het overlijden van zijn hond. Maar ook hij kiest uiteindelijk voor het geld, zoals iedereen. 'Omdat ik het nodig heb', zegt hij eerlijk.
Scherp relaas
Die schaamteloze eerlijkheid over de centen is een van de charmes van Margin Call. Het is uiteraard Hollywood, dus soms liggen de motieven er wel erg dik bovenop. En qua financiële termen wordt het ook nergens te moeilijk of onoverzichtelijk.
Maar verder is de film een behoorlijk accuraat en scherp relaas van de bankensector en het moraal waardoor de crisis kon ontstaan. Bovendien is de fotografie van Frank G. DeMarco geweldig. Verplichte kost dus voor alle critici van het kapitalisme. Maar dan wel pas ná het zien van The Inside Job.